spoonful
of sugar
Hospital food and medicine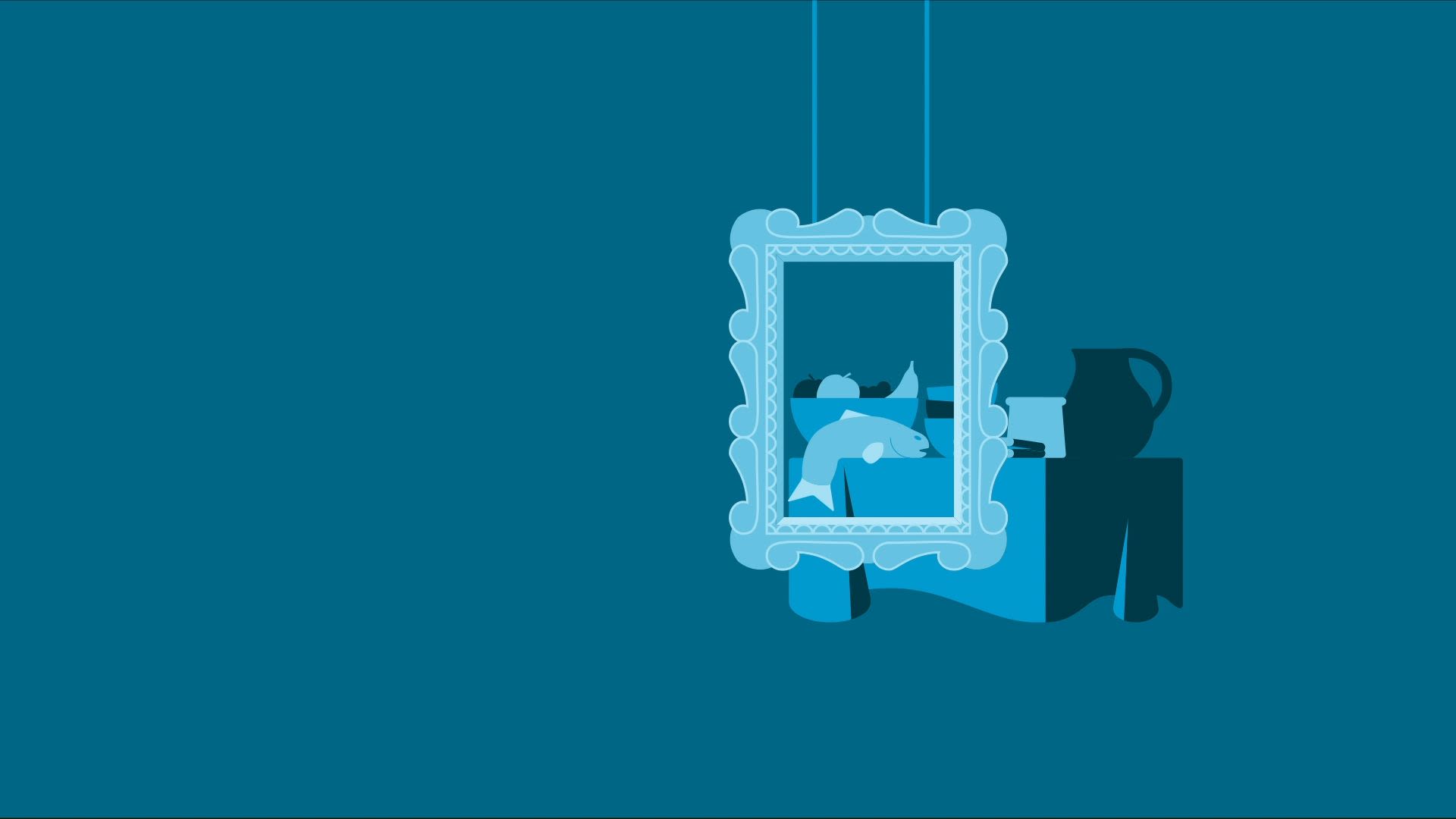 Introduction
Often, when we talk about hospital food, we tend to talk about it in less than glowing terms. It can be analogous to the way in which we talk about the British Rail sandwiches of the 1970s or our experiences of school dinners. It is an issue that is clearly recognised within the NHS itself, with an estimated 21 initiatives launched between 1992 and 2015 to improve hospital food. As early as 1945, there are references to the 'dreary monotony' of hospital food and comments such as 'it is not surprising that the public speak with bitterness of the food in these hospitals'.
Before World War II, it was common for hospitals to provide only one hot meal per day for inpatients, often with little variation on offer from week to week. Post-war, there was a shift towards hospital catering providing three meals per day. The Fund's work during this era specified four principles for menu planning:
Meals should tempt the appetite and please the palate
Meals should satisfy hunger
The day's meals should be nutritionally adequate
Means should be compatible with good digestion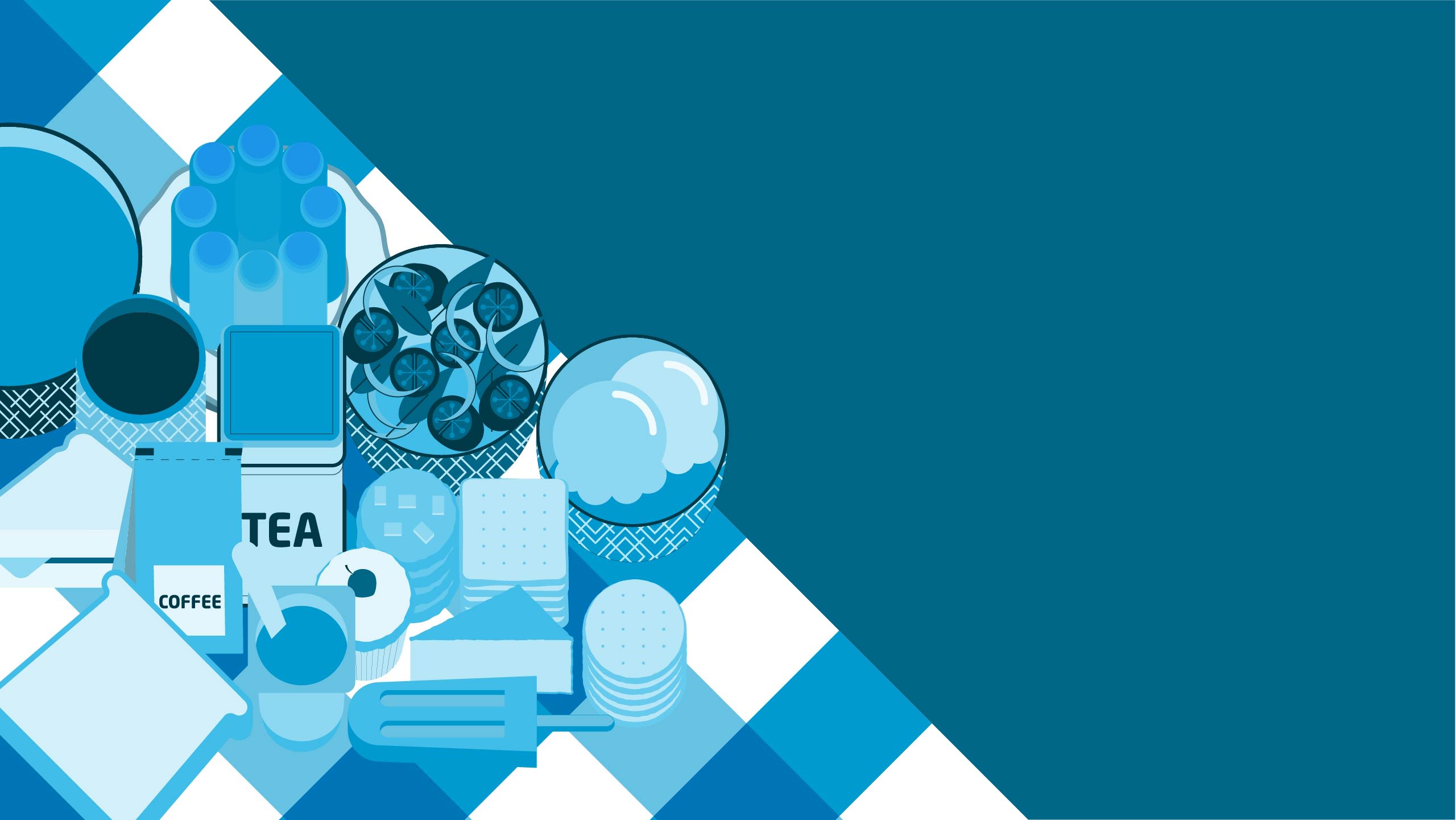 At a basic level, the function of hospital catering is to provide sustenance for patients staying on wards. But food is more than just fuel.
---
Too often, the provision of hospital food has been viewed by the NHS in the same way as it views the provision of shelter and warmth – it's about meeting people's basic human needs while they happen to be undergoing NHS treatment.
- Independent Review of NHS Hospital Food, 2020
---
Even before the NHS was established, the Fund's inspection programme found that 'Many hospitals were becoming increasingly aware of the need to review the dietary provision for patients and staff in the light of advances made in the science of nutrition.'
This growing awareness of the importance of nutrition and diet precipitated a shift towards understanding the other roles that food fulfils in health. Our 1986 review of hospital catering illustrates this with the observation that 'food as therapy has a particular importance for mentally and physically handicapped people because catering is an important part of occupational therapy and rehabilitation. These patients should have their own kitchens in which to prepare their own food.' Fast forward to 2020 and the mantra of 'food as therapy' has evolved into 'food as medicine'.
Crisp toast for breakfast, a delicious lunch with a friendly word, a cup of tea willingly served in the middle of the night can do wonders. Food is a form of medicine.
-Independent review of NHS hospital food, 2020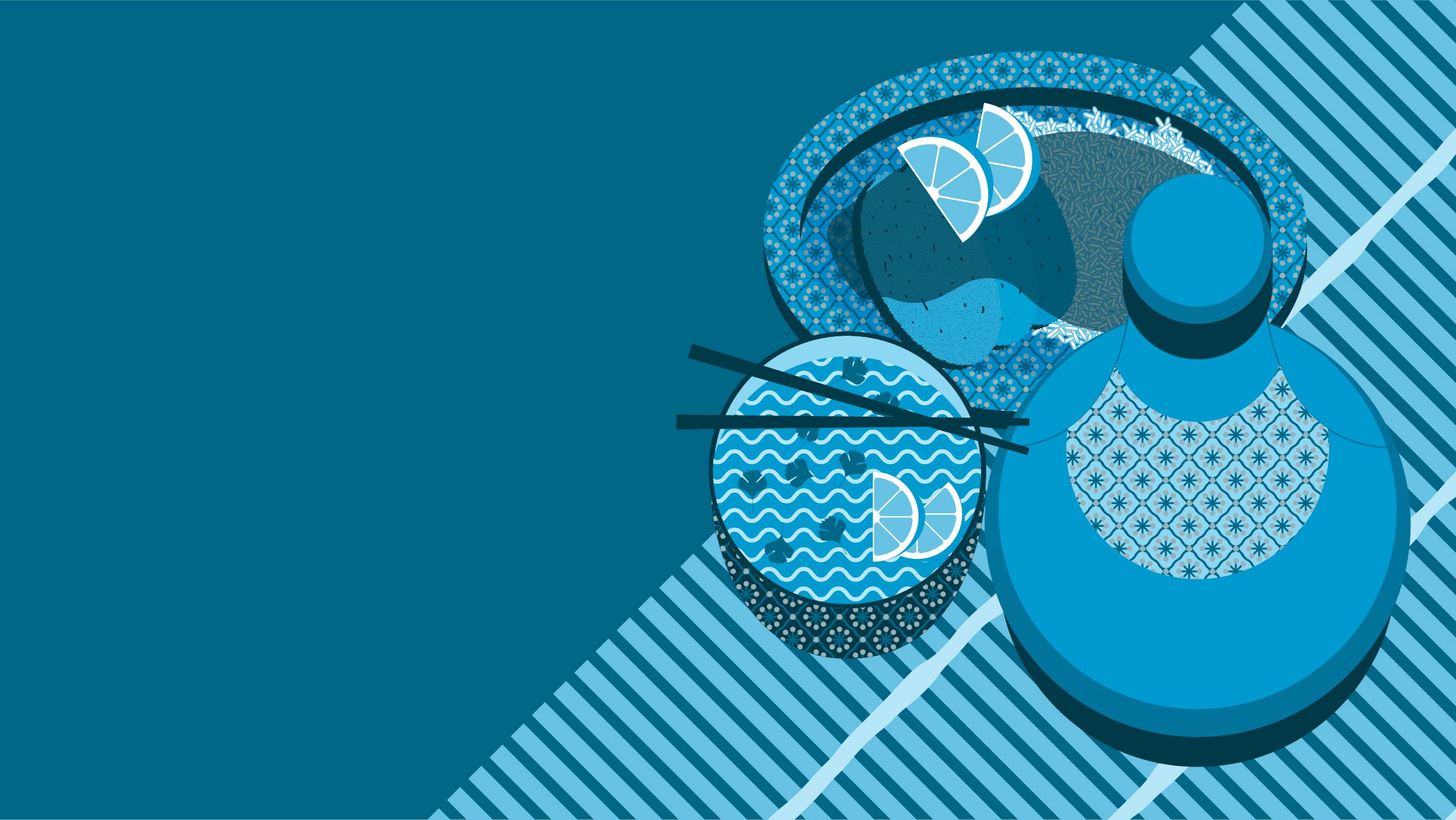 The food culture of Britain has undergone a revolution. The old jokes about a beige and bland British diet no longer ring true now that katsu curries, Moroccan tagines and Vietnamese pho are all things that are readily available in high-street cafes and the supermarket ready-meal aisle. Our adoption of other cuisines might read as a repudiation of British food. It can also be read as a history of the changing face of Britain too.
Cuisines and food cultures migrate with people as a means of survival. For migrants, it can often be a way of making money. The proliferation of Chinese and Indian takeaways in every city, town and village in Britain is testament to that. It can also be a way of helping identity and culture to survive too. Food can provide a taste of home. In many other areas of care, there is recognition that home is preferable to hospital, where possible, for living – or indeed dying. Who can deny that for hospital patients who are unwell and away from familiar surroundings, a taste of home might provide comfort and boost wellbeing at a time when they most need it?
Our earliest sample hospital menus, from 1945, reflect a stereotypically British diet and they read a little like something from an Enid Blyton novel, with bread and butter, Banbury cakes, kippers, pressed ham and semolina all featuring as suggested staples.
While there are some more exotic items on the menu (croquettes and fricassee) the offering tends to reflect a very Western diet. It isn't until 1967 that there are hints of a more ethnically diverse palate in hospital catering, though one might question the authenticity of this interpretation of a curry: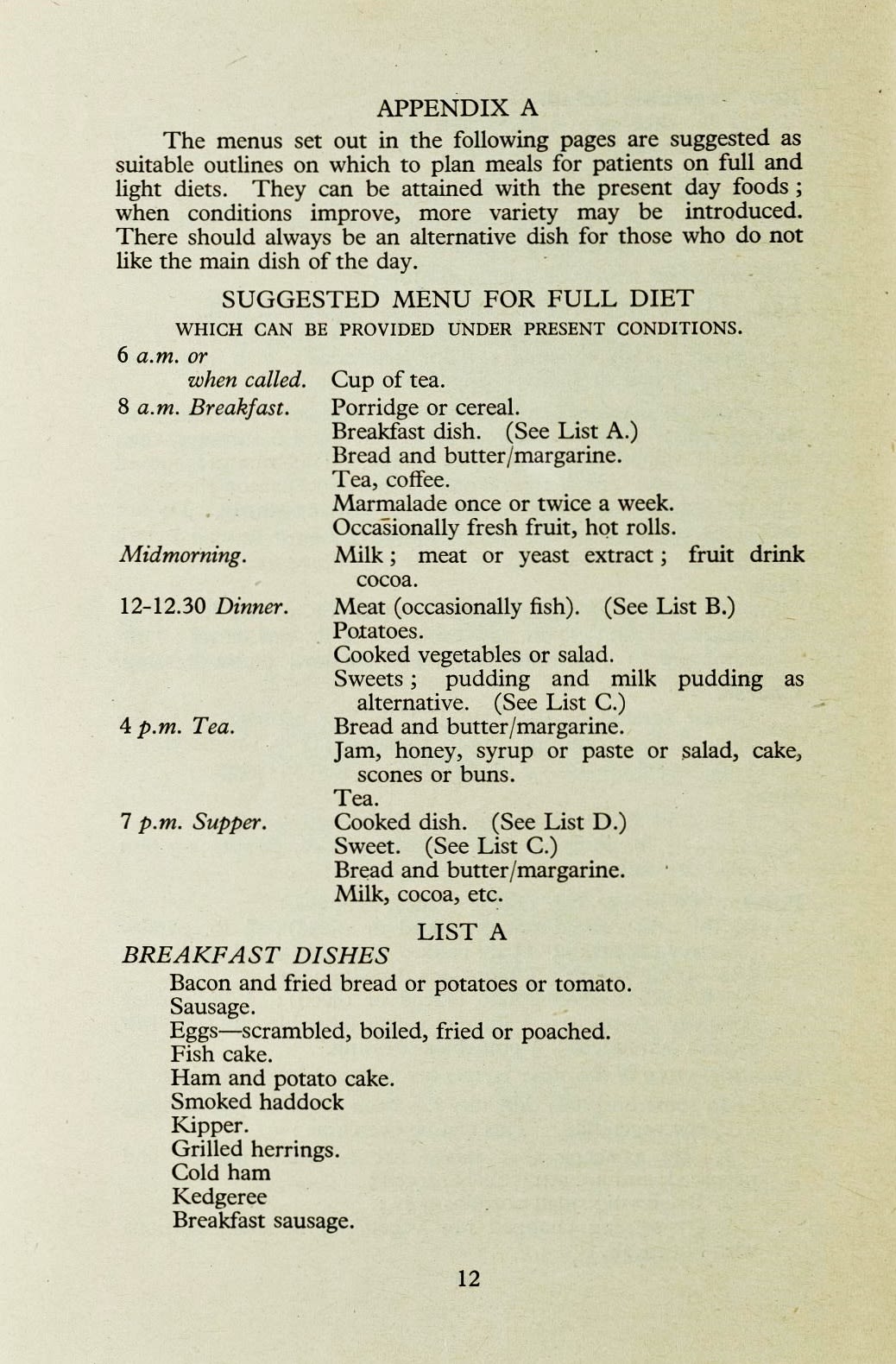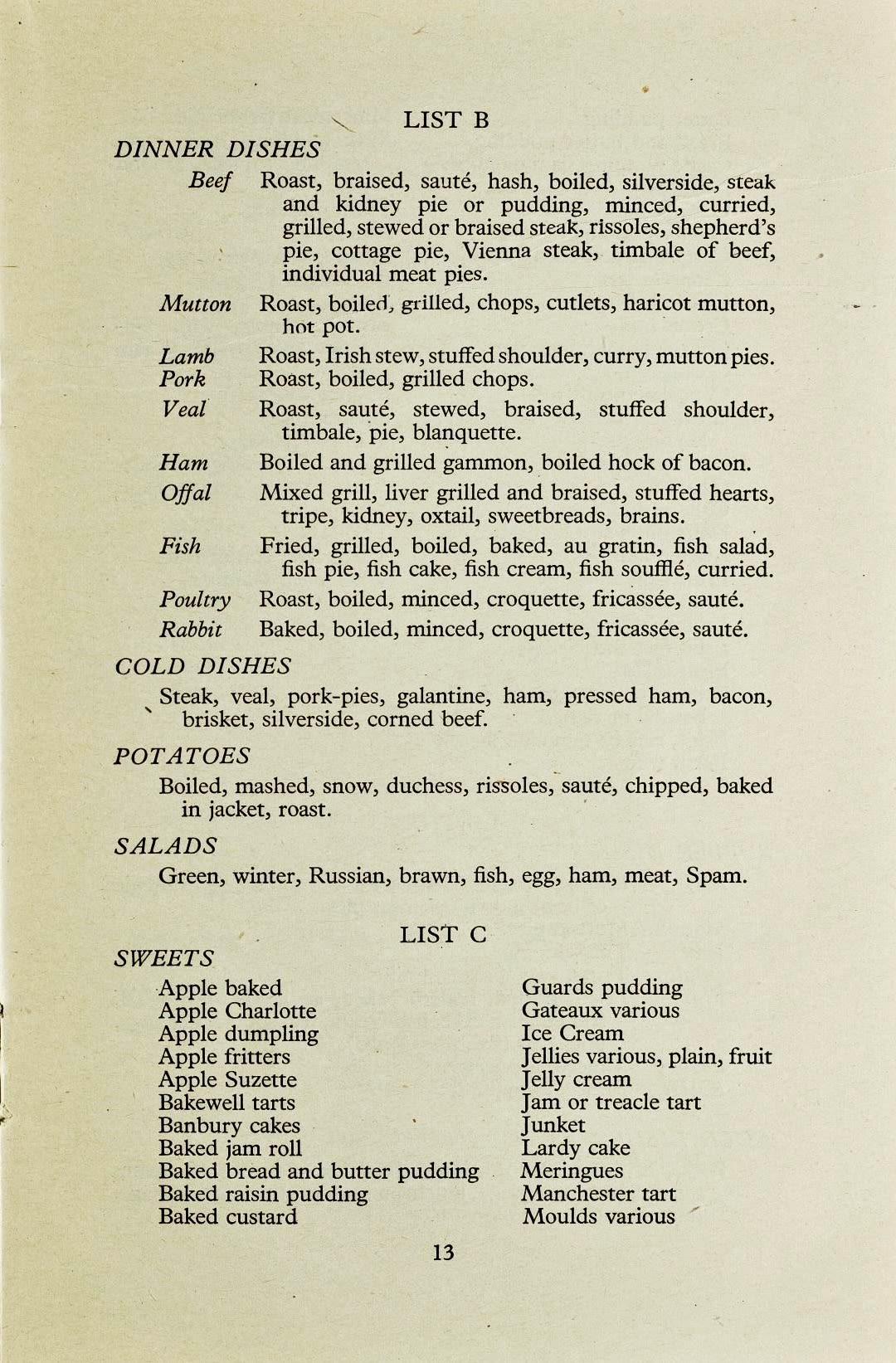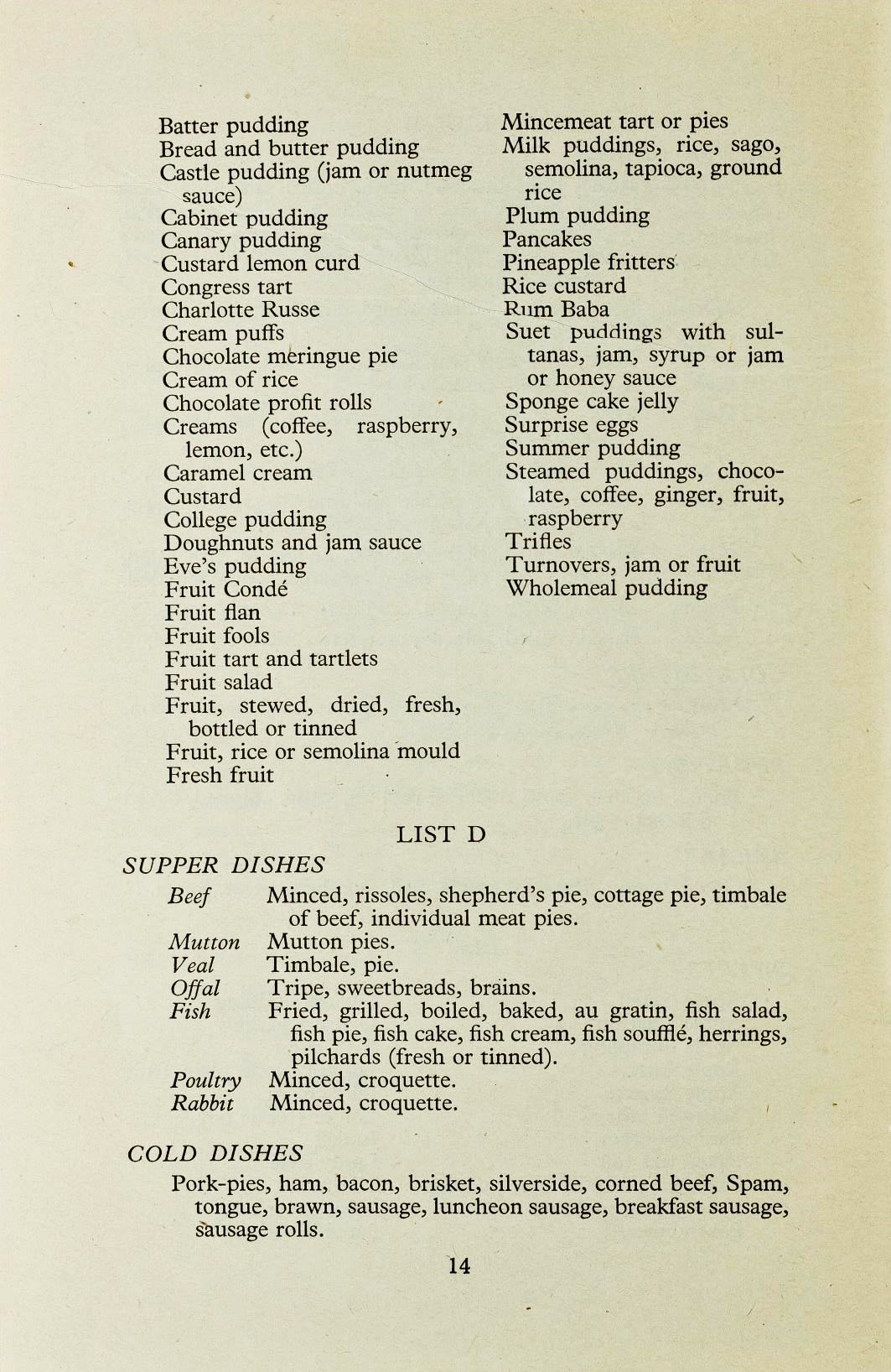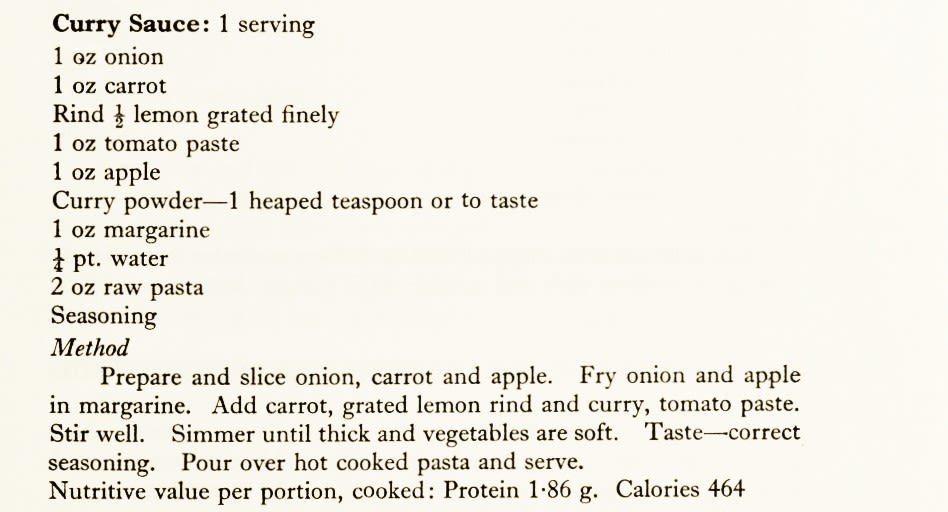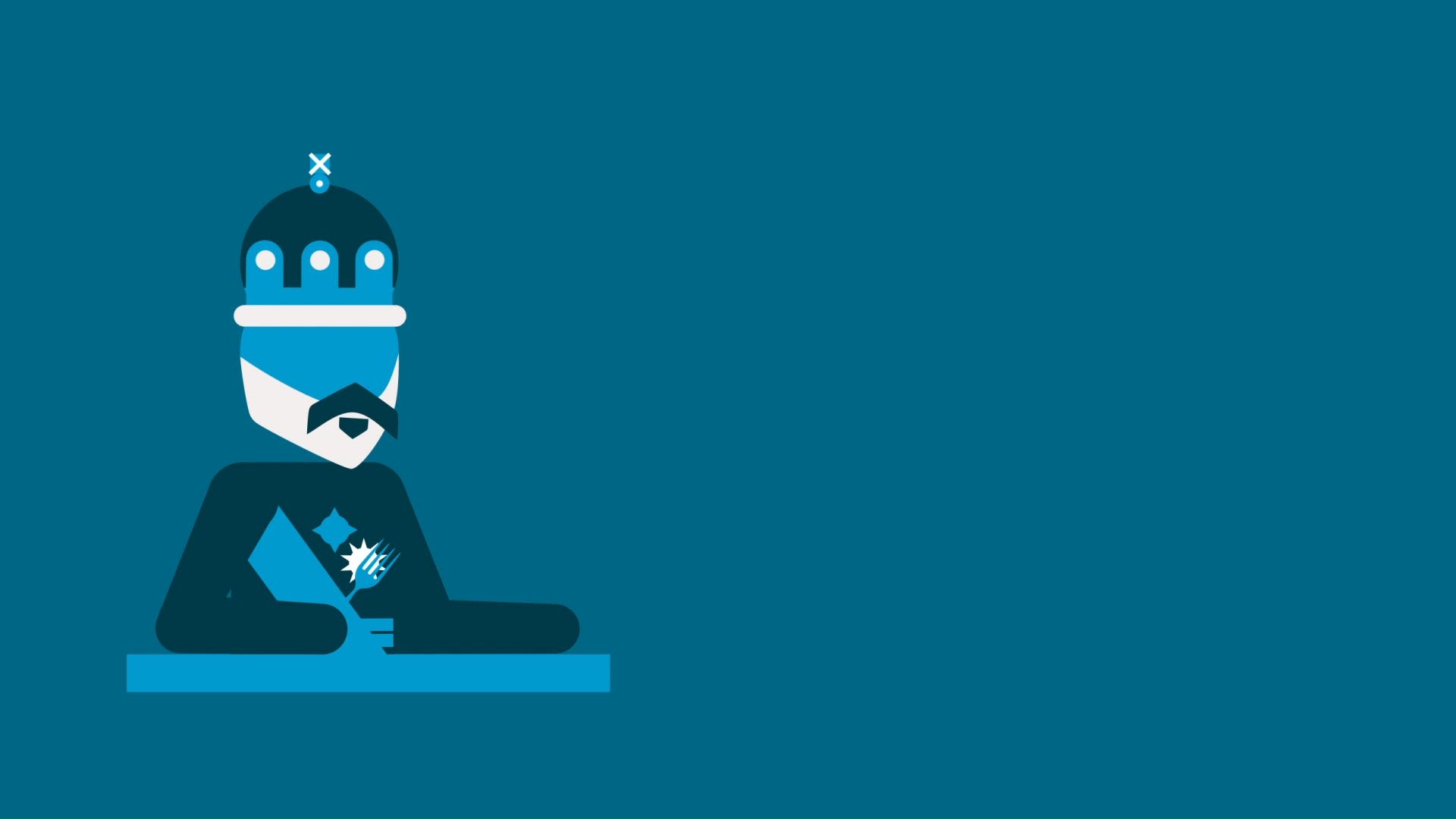 Our 1960 memorandum on special diets illustrates that consideration of patient needs in relation to diets was largely focused on nutritional concerns, rather than cultural ones. For contemporary readers, it might seem surprising to see more modern concerns such as gluten-free diets reflected in a publication from the 1960s but the memorandum covers a wide range of dietary needs including diabetic, low-salt, low-fat and high-protein diets.
In our archive of work on hospital catering, mentions of cultural dietary needs only start appearing in the 1980s. A review of hospital catering in 1986 highlights specific cultural considerations in a list of dietary needs that require consideration.
Catering for cultural dietary needs is more than merely providing familiar food. For patients, it can also make them feel seen. A study of Black service users' views of mental health services found that 'the impact of organisations simply failing to acknowledge difference – what McLean et al (2003) identify as institutional exclusion – was seen in many participants feeling more comfortable in settings intended for service users from similar backgrounds. For several African-Caribbean participants, relatively simple things like appropriate food, prepared well, were seen as very important.'
At worse, a lack of cultural sensitivity can have an impact on patients' levels of nutrition. The British Association for Parenteral and Enteral Nutrition has identified the lack of culturally sensitive hospital menus as a factor that prevents people from eating in hospitals. A 2019 study of nurses' understanding of the dietary needs of Muslim patients found that  'the nurses' knowledge about acceptable and prohibited food within Islam appears to be simplistic and Muslim patients tended to be perceived as a homogenous group. Patients' distrust about the preparation and content of the food served may result in insufficient nutritional intake. Serving food that is acceptable to individual patients requires insight and is an essential part of culturally sensitive nursing care.'
---
30% of patients admitted to hospital are at risk of malnutrition and the number of hospital admissions for malnutrition is rising rapidly.
-Independent Review of NHS Hospital Food
---
Cultural sensitivity around meals and food doesn't stop at the choices on offer on the menu with a greater understanding of a patient's culture having an impact on their ability to eat well in hospitals too. Aiman Alzetani, a surgeon at Southampton General Hospital, has called for better training to ensure that staff understand the cultural needs of their patients:
It can be a source of frustration for clinical staff when patients do not seem to be cooperating but, in the case of Muslim patients for example, it could be something as simple as someone trying to pass them food in their left hand, which they wash with, instead of their right.
-University Hospital Southampton NHS Trust 2014
---
Anyone who has stayed in hospital or indeed visited a loved one in hospital knows that meal-times are strictly regimented affairs. Many hospitals protect meal-times to ensure that patients are able to eat uninterrupted and to free up staff so that they can provide assistance to patients during meals. For some, the set rhythms of hospital meal-times can be a minor inconvenience, requiring them to eat outside of their usual routine. For others, a lack of cultural awareness can result in meal-times clashing with prayer times.
Nowadays, there is more awareness of the cultural role of food in health. The Care Quality Commission is the organisation responsible for ensuring that all health and social care services provide high-quality, safe, effective and compassionate care. As part of this, its teams conduct inspections of health and social care services and take into consideration a range of factors, of which diet and nutrition is one, specifying that 'People's preferences, religious and cultural backgrounds must be taken into account when providing food and drink.'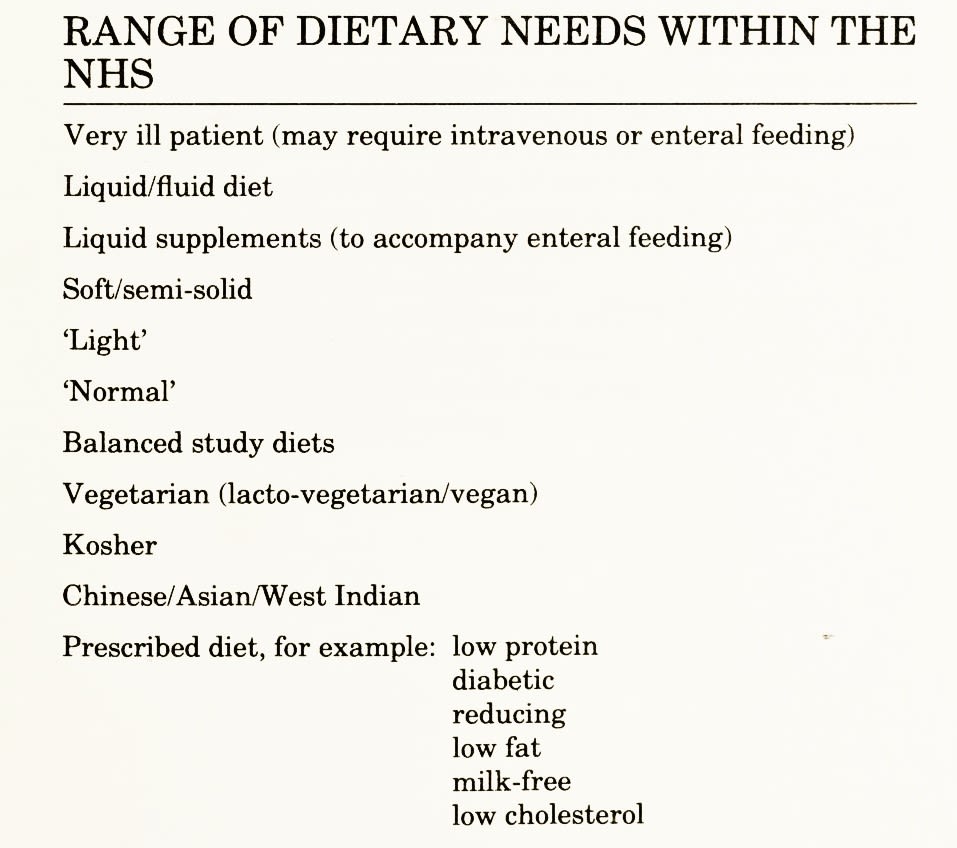 The impact
of war and
food rationing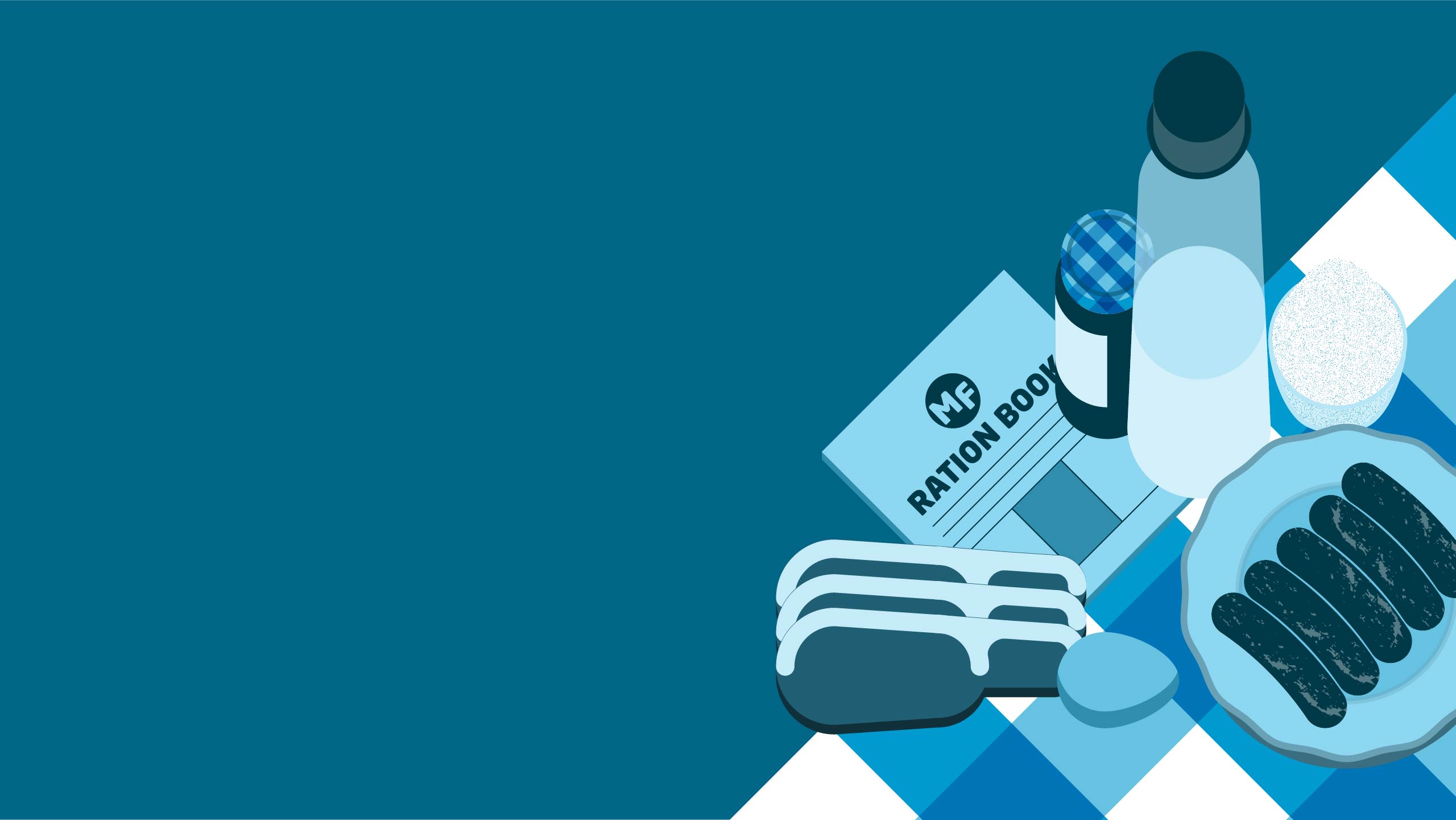 Before the war, the provision of meals in hospitals varied greatly and often consisted of only one meal a day. this was often supplemented by food brought in by the patient's family.
'Formerly it was the practice not to give early tea, but to serve a light breakfast of tea, bread and margarine, and an egg if the patient's friends were able to provide one at about 6am.'
In some cases, rationing brought about improvements to hospital meals, as providing a cooked breakfast and supper was a way of ensuring that hospital patients and staff received their full daily entitlement of rationed foods.
By 1945, certain foods were largely unavailable, and the Fund's work therefore focused on practical advice on planning and cooking balanced meals with the ingredients that were available.
For example, with fewer fruits and vegetables around, consideration needed to be given to cooking vegetables such as potatoes and cabbages in order to retain the vitamin C content.
In light of shortages and rationing during World War II, salads were highlighted as very important for nutrition.
When fresh ingredients were in short supply dried or tinned alternatives were often used.  Many of the recipes in this book relied on dried egg, used in baking, for making sauces and custards and even to create an egg salad as this delicious recipe reveals. Perhaps it was this shortage of fresh eggs that inspired this rather interesting trifle recipe, titled 'Surprise eggs':
Surprise eggs
1 Swiss roll; tinned apricots; 4 oz. jelly crystals. Cornflour sauce made of:-- 4 oz. milk powder, reconstituted; 2 oz. cornflour; 1 ½ oz. sugar.
Cut swiss roll into ten portions…
Place half an apricot on each, outer side uppermost…
Cover with a thin coating of cornflour sauce…
Allow to cool, then pour prepared jelly over the whole…
Variety was also very important so the book also contains meal planners, suggestions of the different ways people might prepare the same ingredients.  For example if you were serving fish more than once in a week you could consider having it 'fried, grilled, boiled, baked or au gratin' or perhaps you could create a fish salad, fish pie or fish cake? If you were feeling very fancy you could also try the very appetising delights of fish cream, a fish souffle or perhaps some lovely curried fish.
Professionalising
the workforce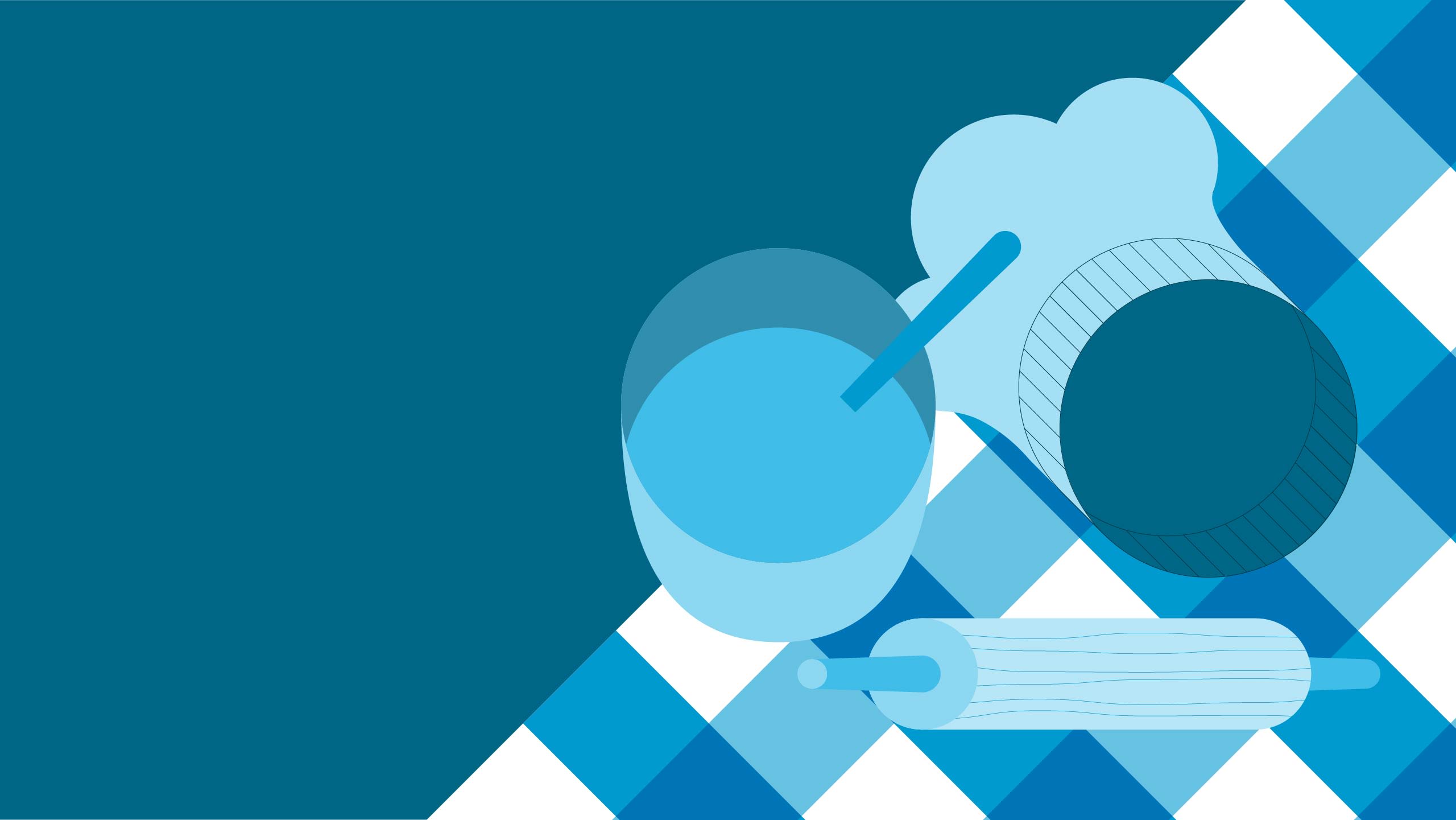 The dreary monotony and unpalatability of so many hospital menus today do not reflect restricted war-time rations as is commonly alleged, but third rate cooks, unimaginative menu-planning and sometimes financial restrictions.
-The King's Fund, 1945
---
While rationing had an impact on wartime hospital menus to some extent, having a skilled, qualified workforce to create varied, appetising and nutritious menus was also key for high-quality hospital catering. Therefore, in addition to advising on hospital food standards, the Fund established the Committee on Hospital Diet in the 1940s to advocate for the creation of separate catering departments to ensure that standards improved.
At this time, it was common practice for the catering responsibilities to be split between the hospital steward and matron. The steward would be responsible for the purchasing and storage of supplies while the matron would oversee the preparation, cooking and serving of meals (in addition to her other duties). During this period, the Fund advocated for a separate catering department run by qualified and experienced catering staff.
These recommendations seem to have influenced the 1950s Ministry of Health guidance that outlined the principles of organising a catering department and defining the duties and qualifications of catering officers and hospital dieticians. In light of this, the Fund established the School of Hospital Catering in 1951 'the first of its kind in the country if not the world'.  It provided refresher courses for different grades of catering personnel, short courses for other hospital staff, and then longer courses providing basic training to new entrants into hospital catering.
In the 1975 publication, Better food for patients : an investigation of ways of improving food services to patient, investigated the idea of using general management techniques, such as setting standards and measuring performance, as ways of improving food services to patients. It also presented a suggested patient survey and menus for hospital caterers.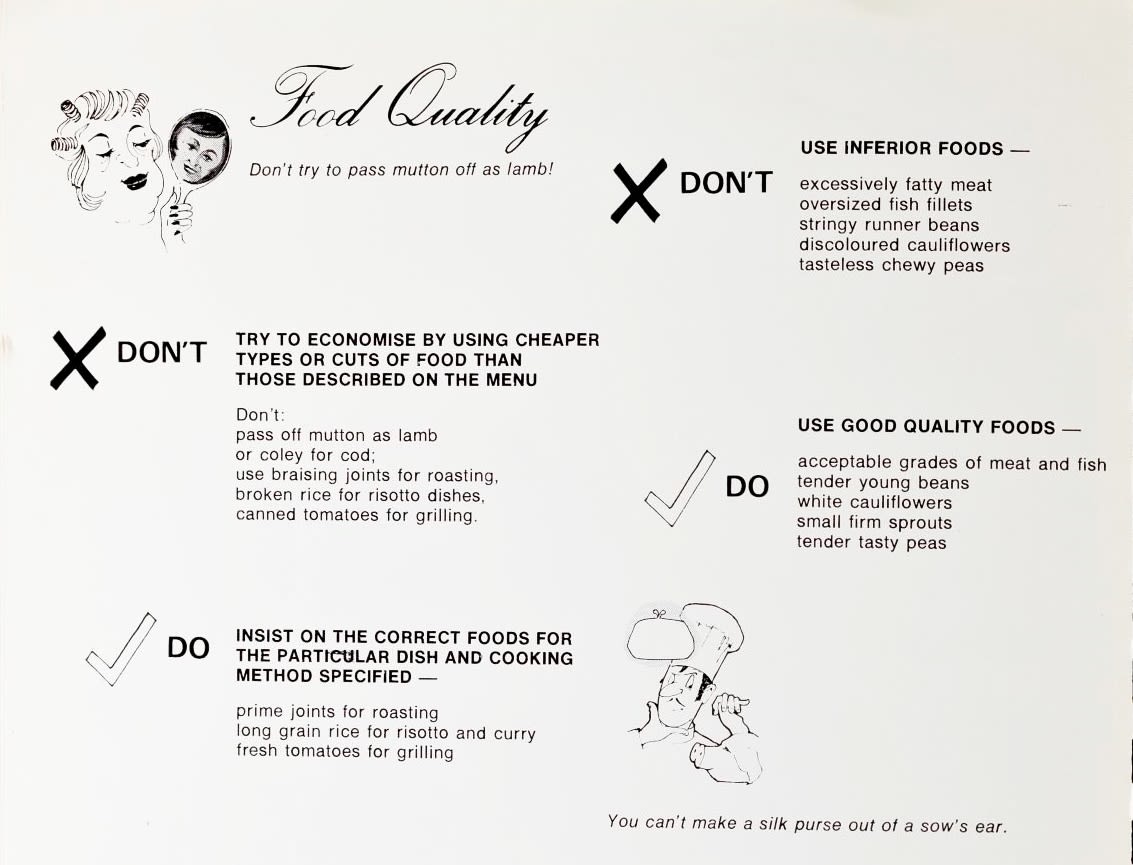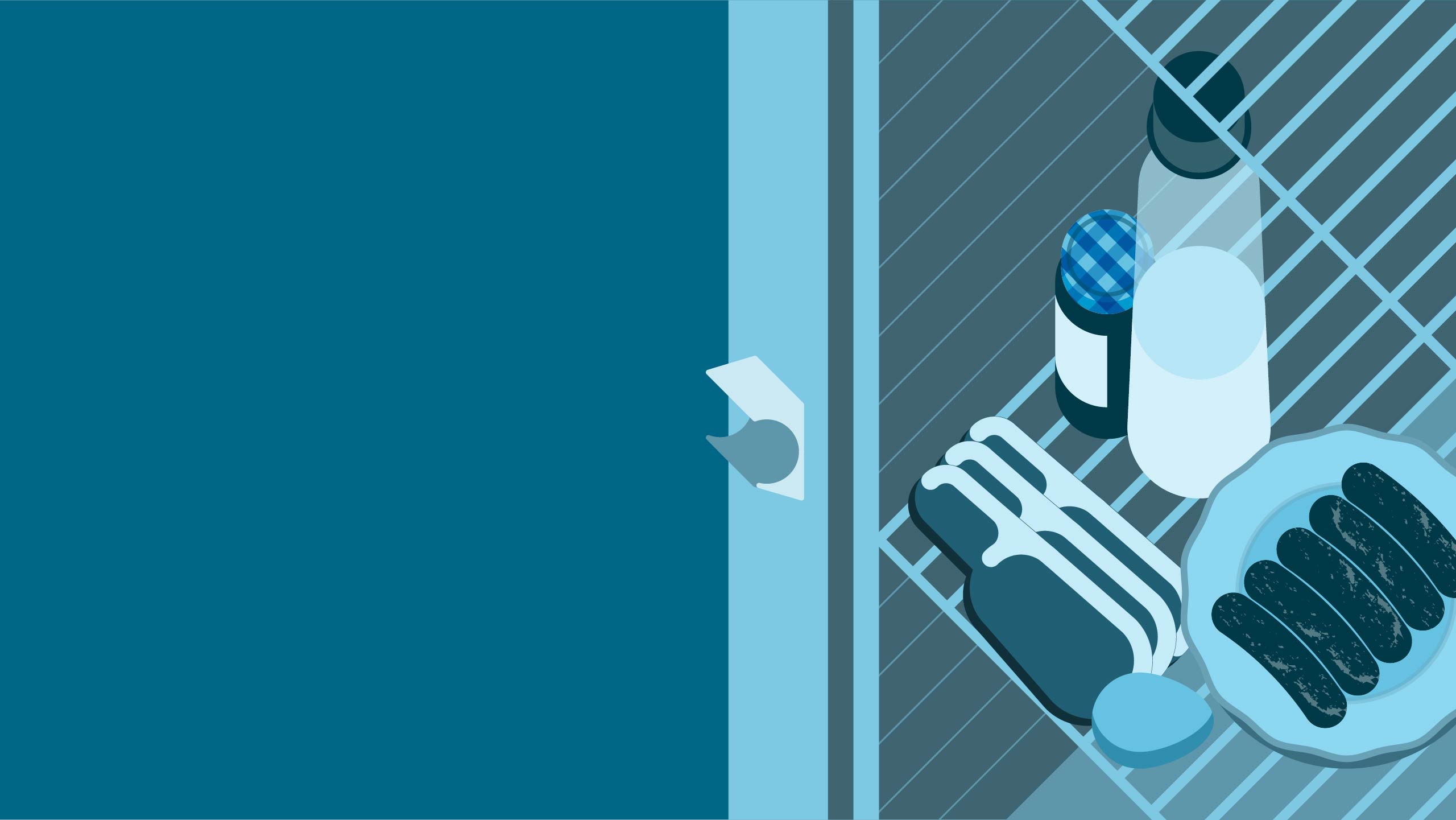 While improving food standards and food preparation can make a huge difference to quality of meals served to patients and staff, this is only part of the story. In order for food to reach patients while it was still fresh, food needed to be prepared quickly, the kitchen kept clean and hygienic and meals delivered to staff and patients piping hot (or cold) and on time. The development of time-saving kitchen equipment to make these jobs easier not only improved efficiency but ensured costs were kept down and that working conditions for staff were more pleasant.  
The Fund's interest in testing and implementing new technologies is evident as far back as the 1930s. In 1934, the Fund commissioned the creation of a miniature model hospital. The hospital was put on display to the public raising money for hospitals and raising awareness of the functions (and costs) of a hospital with the latest equipment installed.  Each room was created in minute detail reflecting the mod-cons of the day.
The inclusion of a new refrigerator in the larder reflects the very latest in kitchen technology as at the time fridges were still a very new thing in commercial settings and wouldn't be common place in homes for another decade.
Cleanliness was also of great importance and signified by the inclusion of the description of new hygienic surfaces such as stainless-steel work surfaces and earthenware sinks and tiles.
The kitchen of the 1950s would have looked a bit better resourced than the model hospital suggests, as time-saving equipment became more commonplace. As the cost of buying or replacing new kitchen equipment was high it was important to maintain it to a high standard. It was also important to keep it clean and the Fund published a manual providing detail on how to clean everything in the kitchen thoroughly. In this guide from 1952, there are instructions for the care of different types of materials (steel, chrome, copper and zinc) and for tackling the moving parts of the various machines including; dishwashers, electric mixers, potato peelers and the bread-and-butter machine. (The automated bread and butter machine sliced loaves of bread to desired thickness before spreading the slices with butter ready to serve!)
The maintenance of a hygienic kitchen remained a focus of the Catering Advisory Service over the next few decades.  In 1963, our work on crockery washing evaluated the use of types of detergent and different ways of dispensing them! Washing up was once again under scrutiny in our work during the 1970s. Our report described the unpleasant role of a pot washer, who would spend an entire shift doing nothing else but cleaning greasy pots and pans in a hot, steamy kitchen. The hospital kitchen of the 1950s could cater for around 300 people, whereas this report estimated that a busy weekday lunchtime could see a hospital provide meals for 2000 patients and staff.  Consequently, it describes pots and pans being washed in dirty dish water as staff tried to keep up with the volume of dishes, in some cases dirty pots might be left over night as there simply wasn't enough time to complete this task when the kitchen was open.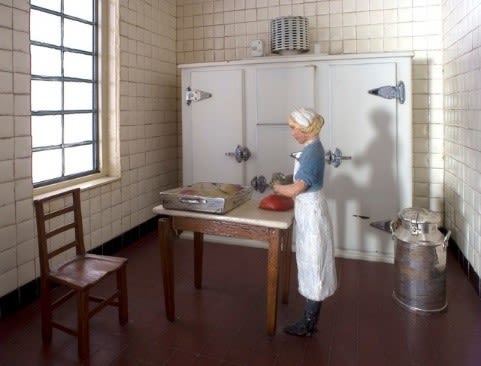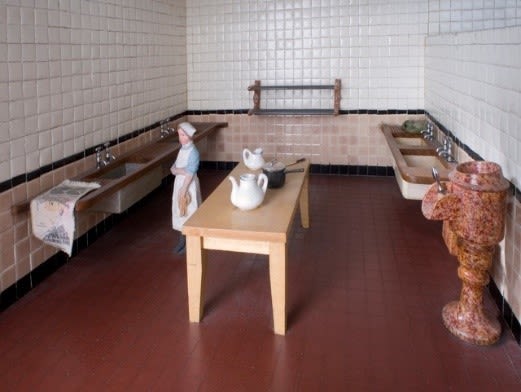 Thankfully the introduction of a mechanical pot washer such as the one trialled here would speed up the process ensuring staff spent less time scrubbing pots and that pots and pans were cleaned quickly and efficiently.
Producing food to a high standard was of course always a priority. One challenge was ensuring that freshly prepared meals were transported to patients quickly enough that they were still piping hot when they arrived. By the 1960s, another innovation was being trialled to help do just this. The Ganymede Tray system was first created in the United States towards the end of the 1950s. These trays used pre-heated or pre-chilled pallets and insulated bowls to keep hot food hot and cold food cold on their way from the kitchen to the patient
For those wondering about the name, the tray is named for Ganymede who, in Greek mythology, was a Trojan prince known for his beauty. According to legend, Zeus was so enamored with Ganymede that he disguised himself as an Eagle and carried him away to become cupbearer to the Gods. Ganymede also gave his name to the largest of Jupiter's moons, inspiring the illustration on the front cover of this 1966 report.
By the 1980s, advances in technology necessitated the development of new skills in the catering workforce and latest innovations such as the microwave made it possible to provide meals throughout the day and night at a reduced cost. Technology also improved catering outside the kitchen with computerised information systems being introduced to monitor costs more effectively. Another thirty years on and food technology has moved on equally as much again. The latest independent report on NHS hospital food is written in the context of the ongoing digital transformation of the NHS. Less is written about the adoption of new machinery to make life easier in the kitchen, concentrating instead on using digital solutions. A key recommendation in the report is for every hospital to have implemented a digital meal ordering system by 2022. These systems ensure that menus are tailored to patients' individual dietary needs and personal preferences, which improves patient experience, ensures they are receiving the nutrition they need for recovery and minimises food waste for the hospital. While the way technology is used may have changed, the drive to exploit the benefits of innovation, improved standards of care and productivity, and free up staff time still remain the priorities in the ever continuing move to improve hospital food.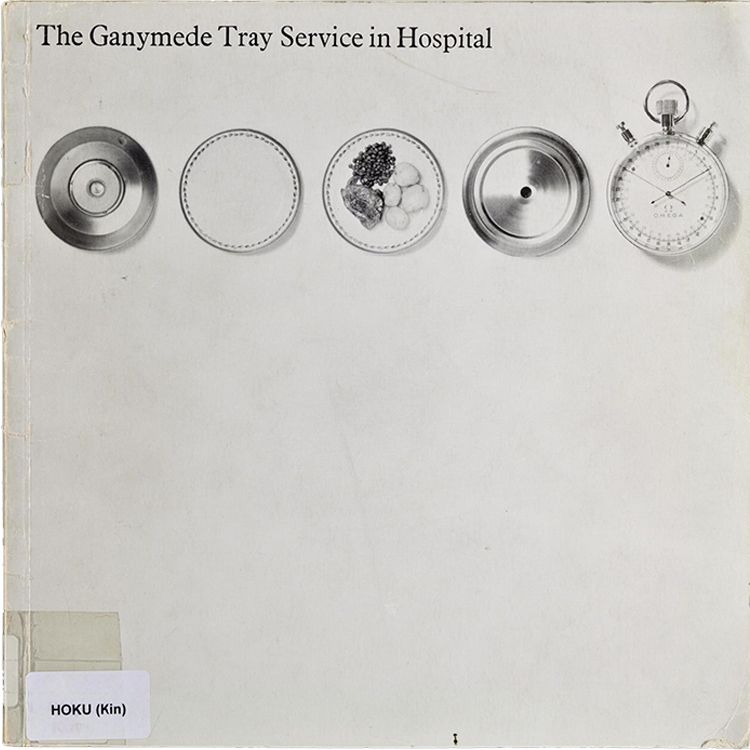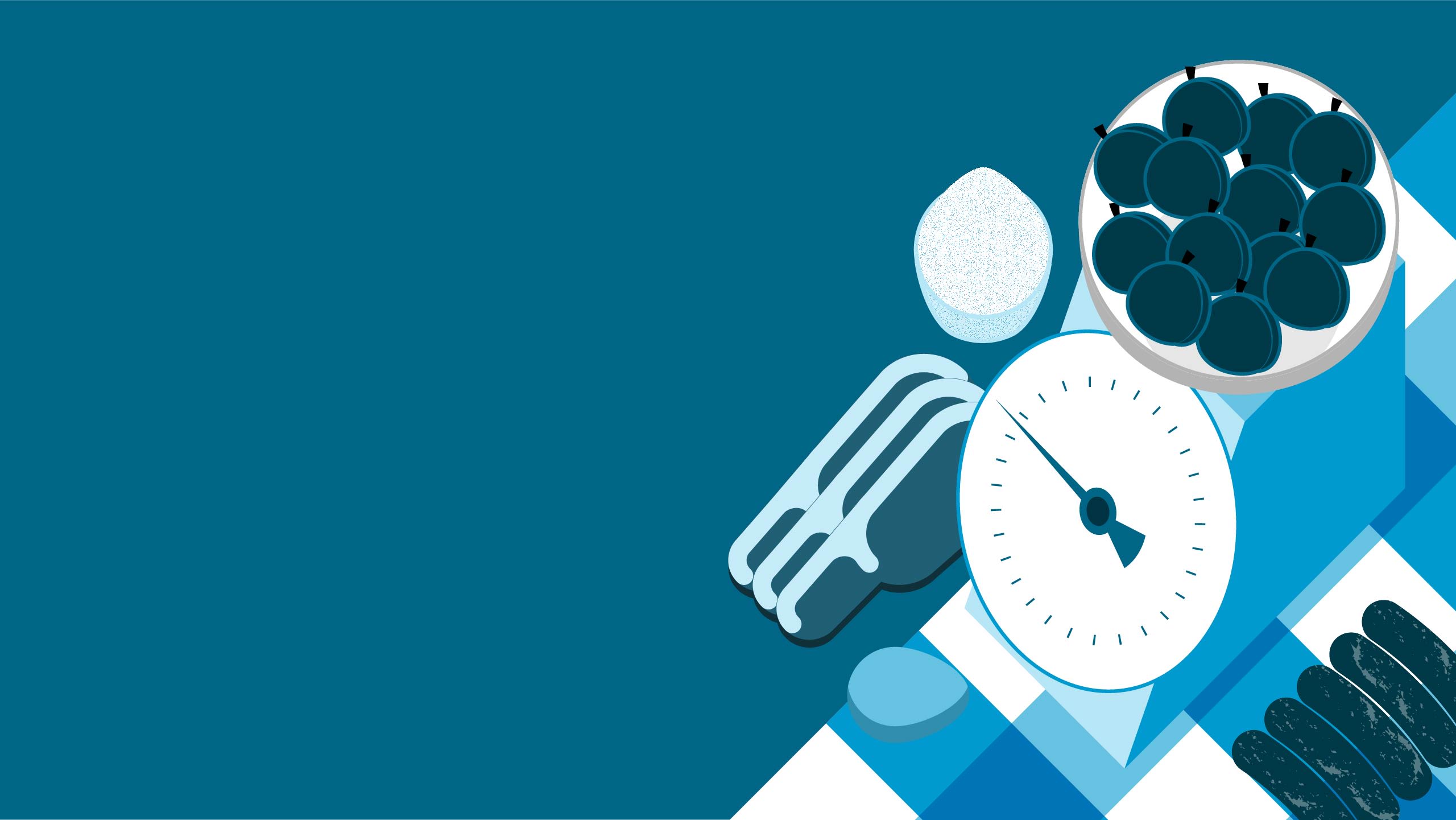 The benefits of a nutrition-led approach to hospital catering has been present in the Fund's work as far back at the 1940s. The introduction to this 1943 memorandum notes that "a number of hospitals were conscious of the need to review the dietary provided for patients and staff in light of advances made in recent years in the science of nutrition." Some hospitals had employed dieticians and others were reviewing their menus. However, there was no standardised approach, leading The King's Fund Committee on Hospital Diet to formulate recommendations, including a review of the time at which breakfast served:
---
...it is recommended that a cup of tea be given on waking, and that breakfast be served at a more normal hour, such as 8 a.m.
---
The Committee designed a range of menus, each designed to conform with the nutritional advice and dietary allowances as recommended by the British Medical Association Committee on Nutrition. For example, the daily recommended protein allowance made up 14 per cent of a patient's total calorie intake to account for the fact that "many patients suffer tissue damage and therefore require more protein than healthy adults."
Whilst specialist diets might seem like a contemporary trend, the idea of different diets for different needs appears in the Fund's early work. Consideration needed to be given to types of illness, for example a 'soft diet' would be prescribed to patients who experienced difficulty chewing or swallowing whilst a light diet might be better for patients recovering from surgery.
Of course, nutrition doesn't start and end beyond the hospital ward and over time our understanding of how diet and health has become more sophisticated. This is exemplified by the Fund's 1982 cookbook Enjoying food on a renal diet which was full of recipes tested by the Renal Group of the British Dietetic Association and designed to support people with kidney conditions eat well in their every day life. Focusing on nutrition and diet outside of health care settings also led to a more holistic view in the Fund's work. In 1972, this study on nutrition of housebound older people compared their dietary intake of with those of more active older people. It concluded that loneliness, boredom and restricted physical activity are factors which were likely to result in low intake of nutrients.
The importance of good nutrition in recovery and rehabilitation has once again been highlighted by the coronavirus pandemic. In October 2020, the government published an independent review of NHS hospital food, which highlighted that patients who have spent a long period of time seriously ill in hospital require nutritious food to help them recover. The report adds that the support of dietitians, other health professionals and caterers is vital to this process in order to help a patient gain enough strength to return home. Patients who have spent a long period of time seriously ill in hospital require nutritious food to help them recover. The report adds that the support of dietitians, other health professionals and caterers is vital to this process in order to help a patient gain enough strength to return home.
This recommendation does not feel too far removed from this guidance produced back in 1948 for catering in convalescent homes.  'Good food' says the introduction, 'is one of the most important contributory factors towards recovery'. Written 70 years apart, both reports observe that the provision of quality hospital food is a priority that is often forgotten.
The food in this suggested menu for residents of a convalescent home recovering from illness in 1948 looks similar to the guidance from the 2020 review of hospital food...
1948
2020
What 'good' looks like
The Food First approach to the identification and treatment of malnutrition uses NICE nutritional support guidence to help hospitals provide the best possible care to their inpatients, which includes quality basic ingredients (and a dedicated budget to provide these) such as:
Good-quality tea and coffee (including decaffeinated), hot chocolate and malted drinks.
Cakes biscuits, where appropriate.
Nutritious starter soups.
High-energy cold food (as the smell of hot food can be off-putting for some), for example, sandwiches, salads, salted crisps, crackers, cheese portions.
High-energy and protein snacks for all, supporting the needs of a wider range of patient groups, for example, custard pots, yogurts, cheese and crackers, rice puddings, toast, and for some patients, chocolate and crisps.
Snacks that contribute less nutritionally will still be required as some patients may prefer these at times, for example, if feeling sick, just starting to eat or prefer something refreshing such as ice cream, ice lollies, jelly, fresh and tinned fruit, clear soups.
What good looks like (p35) Independent Review of Hospital Food, 2020
Conclusion
Over the past few decades there have been many initiatives to ensure that improving hospital food remains on the menu. The Department of Health and Social Care's response to the 2014 Mid-Staffordshire NHS Foundation Trust Public Inquiry noted that malnutrition 'can be both a cause and a consequence of ill health' and included nutrition as one of the fundamental standards against which health and care services would be measured. This resulted in guidance published in 2015 to support services to improve nutrition and hydration within their populations.
Following this, the Care Quality Commission (the national body tasked with regulating the quality of care in England) developed a list of fundamental standards, with the aim that care must never fall below these standards. Among these baseline standards, food and drink features as a domain against which services are assessed, ensuring that patients 'must have enough to eat and drink to keep [them] in good health while you receive care and treatment'.
The Food for Life scheme, run by the Soil Association, was launched with the aim of improving food in schools but has been extended to other settings such as hospitals and care homes. Their Hospitals Network was set up to help support hospitals to provide a better 'food environment' for patients, staff and visitors.  As well as a focus on the quality and range of food on offer to patients, there has also a move towards environmental considerations such as reducing food waste and sourcing sustainable food.
While progress has been made in hospital catering, there is still work to be done. In February 2020 a survey published by the Patient Association shows that patients are still unsatisfied with hospital food. This graph for example, shows the most common reasons for people not finishing their whole meal.
Following this, in October 2020, the government published an independent review of NHS hospital food. Many of the concerns raised in these reports reflect issues that were of concern in the past are still a concern today. The provision of varied, nutritious and palatable food; providing staff with the equipment needed to produce high-quality meals and the adoption of a holistic view of the relationship between diet, nutrition and wellbeing remain key ingredients in ensuring the delivery of quality food in the health service.